MONTHLY ARCHIVES: December 2018
Posted by Karah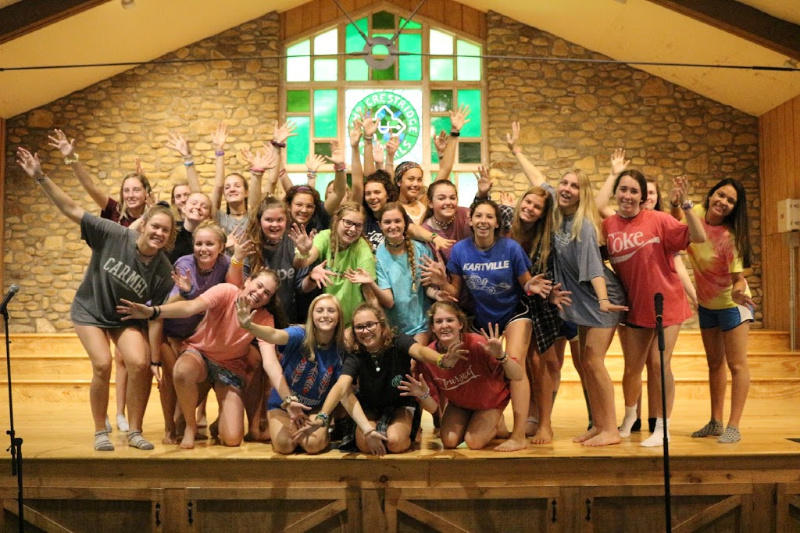 PAUSE
Reflect on ways God has been with you during difficult times. Thank Him for His faithful presence.
"So He went to her, took her by the hand, and raised her up. The fever left her, and she began to serve them." —Mark 1:31
Read Mark 1:29-31 in your Bible and think through these questions:
After leaving the synagogue, Jesus and His disciples went to Capernaum where Jesus was "at once" (v. 30) made aware that Peter's mother-in-law had a fever. Being omniscient, Jesus likely already knew about her sickness but allowed His disciples to come to Him with their concern.
• What were the three actions Jesus took after the disciples brought Him their news (v. 31)?
Jesus could have spoken healing over Peter's mother-in-law from where He was, but He chose to go to her, touch her, and help her get up.
• How does this healing show Jesus' compassion and love for His people? Explain.
• What does this tell you about His character? His relationship with you?
RESPOND
Although Jesus knows what we need— He still wants us to come to Him—He wants relationship.
• We all have needs and pain. What are some things you're struggling with right now? Talk honestly with God and ask Him to help you overcome your struggle.
• Think about a specific situation where you needed God's help or healing and His response strengthened your relationship with Him. What happened? How did you respond? Journal your response.
• In your journal, list a few people you know who are going through a tough time or are enduring sickness. Pray over those people every time you see their names.
BEHIND THE STORY
In Mark 1:21-28, Jesus spent His day teaching in the synagogue. During that time, a man with an unclean spirit entered the synagogue; Jesus drove out the spirit with a verbal rebuke. The people recognized His authority when He commanded the unclean spirit to come out of the man. However, in today's passage, Jesus used His touch to heal Peter's mother-in-law.
THE POINT
Jesus didn't just come to heal our pain—He walks through it with us. He wants us to come to Him with our needs.
Posted in Devotions, Girls | Tagged Camp Crestridge for Girls, Reprinted from ec magazine. @ 2015 LifeWay Christian Resources of the Southern Baptist Convention, Ridgecrest Summer Camps, Weekly Devotions | Leave a reply
Posted by Karah
PAUSE
Quickly list any places you've tried to find hope and healing. Ask God to help you focus on Jesus as your only hope and Healer.
"'Get up,' Jesus told him, 'pick up your mat and walk!' Instantly the man got well, picked up his mat, and started to walk". —John 5:8-9a
Read John 5:1-15 in your Bible. Answer these questions:
• People with all kinds of ailments came to Bethesda to be healed. This particular man had been sick for 38 years and Jesus knew the man had been there for a long time. How did this show His compassion?
• Reread verse 6. Jesus didn't ask the many why he wasn't well; He asked if the man wanted to get well. How does the man's response indicate His misunderstanding of Jesus' question? Explain.
• What was Jesus' response to the man's complaint (v. 7)? Write it in your own words.
• How do Jesus' words in verse 14 give hope? Explain.
RESPOND
• The sick man trusted in a myth about the pool of Bethesda as the only possible means for healing. What "good" things are you placing your hope in, instead of Christ? Jot down a few ideas in the margin.
• What good things are you trying to do to earn God's favor? If you haven't accepted His unconditional forgiveness, talk to your parents, a camp counselor, or someone from your church about how to know God personally.
• What can you change this week to demonstrate a full trust in Jesus as your only source of hope and healing? List three ideas in your journal.
BEHIND THE STORY
The focus of Jesus' ministry wasn't just curing illnesses and difficulties, although He did heal people physically. In this situation, He sought out the man who had been sick for 38 years and had no one to help him into the pool. Instead of helping the man into the pool, Jesus ignored the pool and gave the man healing through Himself, the only true Source of hope and healing.
THE POINT
Jesus is the only source of hope and healing.
Posted in Devotions, Girls | Tagged Camp Crestridge for Girls, Reprinted from ec magazine. @ 2015 LifeWay Christian Resources of the Southern Baptist Convention, Ridgecrest Summer Camps, Weekly Devotions | Leave a reply