Choose Love
Posted by Karah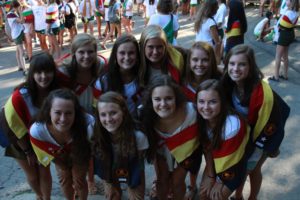 Pause
Turn off your phone, the TV, your computer, and any other distraction that might keep you from fully focusing on the Lord for the next few minutes. Ask the Lord to help you concentrate only on Him as you study Scripture today.
Who are some famous enemies? List a few that come to mind.
While you may not have a so-called archenemy in your life, there are probably people you don't like or who mistreat you. In the Sermon on the Mount, Jesus even had something to say about how we should treat those people. Read Matthew 5:43-48 in your Bible.
"But I tell you, love your enemies and pray for those who persecute you, so that you may be sons of your Father in heaven. For He causes His sun to rise on the evil and the good, and sends rain on the righteous and the unrighteous." —Matthew 5:44-45
Answer these questions:
How did Jesus' command fly in the face of the general thinking of the day? How did it call His followers to a higher standard? Explain.
Why would He tell us to love those who hurt us? Can we truly do that in our own strength or power? Why or why not?
What could be the end result of Christians actually living out this command? Explain.
Respond
Think about the people in your life right now. Who are your "enemies," the people who it is difficult for you to love, encourage, or help? Someone who is easy for you to overlook? The genuine test of true Christianity is how believers treat those they dislike or who have mistreated them. Jot down the names that came to mind in your journal. Commit to pray for these people, their relationship with Jesus, and for God to help you love them.
In your journal, list two ways you could begin to show those people the love of Jesus this week. Pray for God to strengthen you and give you the courage to follow through with your ideas. Ask that He would use your interactions to draw these people closer to Himself.
For further study of what loving your enemies looks like, read Romans 12:20; 1 Corinthians 4:12; and 1 Peter 2:23.
Behind the Story
The words "love your neighbor" appear in Leviticus 19:18. However, nowhere in the Old Testament is anyone commanded to hate their enemies. Evidently, though, some of Jesus' contemporaries argued that the command to love your neighbor also implied the opposite—that a person was to hate everyone who was not his neighbor.5 Jesus' instruction flew in the face of this idea.
The Point
A relationship with Jesus transforms the way we treat even those who dislike or mistreat us.
5Holman Christian Standard® Study Bible Notes for Matthew 5:43. Available at: http://msb.to/&lRhFSmp
Posted in Devotions, Girls | Tagged Camp Crestridge for Girls, Reprinted from ec magazine. © 2012 LifeWay Christian Resources of the Southern Baptist Convention. Used by permission., Ridgecrest Summer Camps, Weekly Devotions