What's Your Focus?
Posted by Karah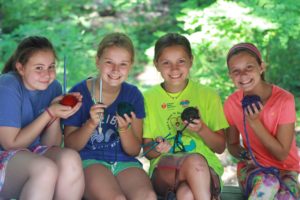 Pause
Ponder this quote from R.H. Mounce: "Worry is practical atheism and an affront to God."
What things do you worry about most? List a few ideas.
Worry is a big deal in our relationship with God. Worry displays a lack of faith. Instead of trusting Him to meet those needs or work in that situation, we attempt to take control and find the answer ourselves. With that in mind, read Matthew 6:25-34 in your Bible. Focus on the promises of God outlined in these verses.
"But seek first the kingdom of God and His righteousness, and all these things will be provided for you. Therefore don't worry about tomorrow, because tomorrow will worry about itself. Each day has enough trouble of its own."
—Matthew 6:33-34
Answer these questions:
-Jesus lovingly explained that the real problem wasn't anxiety, it was not trusting God. What metaphors did Jesus use to demonstrate how God provides for His creation? Be specific.
-How does the way that God cares for the birds and flowers encourage you to trust Him for your needs?
-Jesus said that our focus in life should be about building His kingdom. Is this your focus? If not, what is getting in the way?
Respond
Trusting God to provide for your daily needs, may not be a stretch of faith, but trusting Him enough to give up all of your wants in order to devote your life to building His kingdom may be the bigger issue.
-Ask God to give you a greater desire for Him. Ask the Holy Spirit to reveal any desires you are allowing to get in the way of helping to build His kingdom here on earth. List what He reveals in your journal and record specific steps you'll take to trust Him and invest in His work.
For further study on trusting God, read Proverbs 3.
Behind the Story
Jesus wasn't telling His followers not to think about or plan for the future in this passage. We can and should plan, but Jesus did prohibit worrying about the future. Instead, He encouraged His followers to focus on the challenges of the present day.
The Point
We can focus on building God's kingdom because we can trust that He will provide for our personal needs.
Posted in Devotions, Girls | Tagged Camp Crestridge for Girls, Reprinted from ec magazine. © 2012 LifeWay Christian Resources of the Southern Baptist Convention. Used by permission., Ridgecrest Summer Camps, Weekly Devotions