Evolving Traditions for Belles and Trekkers
Posted by Karah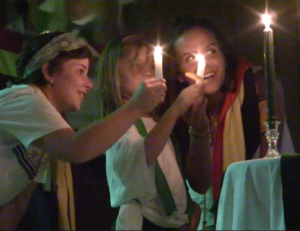 The Belle test and Ranks of Trekkers and Belles have been a long standing tradition at Camp Crestridge for years and years. We love the experience this provides for our campers. The lessons that come from the challenge, the test, and the outcome of it don't stop at the lifting of the silence ban. Many times those lessons are just beginning. We love how God uses this experience in each of our lives (whether we are in the test or not) in very different ways. For some it is a once in a lifetime unique experience that challenges them in fun ways that can only be experienced at camp, for others it is a pivotal point in their walks with the Lord, for others it is a time they discover things about who God has made them to be, for some it is an experience of discipline and dedication and dependence. Whatever the impact, we love that there always IS an impact. It is an opportunity for us all to see challenges, tests and experiences as coming from the Lord and being FOR the Lord.
This year we want to share how an element of the Belle and Trekker Tradition will be evolving. In the past we have had girls who have, or will be receiving the rank of Trekker or Belle sit in the spotlight on the stage during our Council of Progress Ceremony. This year we will have the Trekkers and Belles sit in the audience with their fellow cabin mates out of the spotlight. We will still have them walk across the stage to receive their honor bands and ranks, but we hope that this will allow them to simply enjoy the ceremony and message as we all do, without having the eyes of camp on them. Our desire is to provide a setting for all of our girls to both celebrate like crazy with those who have had a unique experience AND to easily focus on Christ and the growth He is working in us through the encouraging illustrations and His word spoken through our camp leadership.
Chippewa, Chickasaw, Creek, Cheyenne, Catawba, Choctaw, Cherokee, and Chehoapek, WE CAN'T WAIT FOR YOU TO GET HERE!
So many things to look forward to!
Posted in Girls, News | Tagged Belle, Belles n Trekkers, cc4g, Council of Progress, CP, Evolving Traditions, Girls, Trekker