Doing vs. Being
Posted by Karah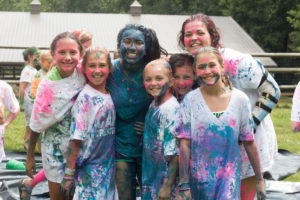 PAUSE
Jot down anything that may distract you from your time in the Word. Ask God to help you set aside other concerns and focus on what He has to say to you today.
"The Lord answered her, 'Martha, Martha, you are worried and upset about many things, but one thing is necessary. Mary has made the right choice, and it will not be taken away from her.'"
—Luke 10:41-42
Read Luke 10:38-42 in your Bible
• Based on the events recorded, how would you describe Mary and Martha?
Mary                                                                                                                                       Martha
• If you were Martha, would you have been upset with Mary? Why or why not?
• How did Jesus help Martha see beyond her own priorities to what was truly important? Explain.
Jesus didn't demean Martha's desire to serve Him, but He gently reminded her that it was more important to spend time with Him and learn from Him. Sometimes even good things can distract you from connecting with Jesus on a deeper level.
RESPOND
Serving God and doing good things in His name should never take the place of your relationship with Him.
• Think about some of the ways you serve God and jot them down in your journal.
• How might these responsibilities, or commitments become a distraction from spending time learning from Jesus?
• Examine your heart—is Jesus your top priority? Spend some time in prayer and ask the Holy Spirit to guide you as you answer this question.
• Close your eyes and reflect on your day. Would people see Jesus through the way you live? How do you interact with others? React to frustrations? Consider most important? Journal your thoughts.
• For further study on godly priorities, read Exodus 20:3; Matthew 6:33; and Luke 12:34.
BEHIND THE STORY
This was likely Jesus' first encounter with Mary and Martha. In John 11, Jesus returned to Bethany to raise their brother Lazarus from the dead. John 11:2 mentioned Jesus' previous connection to
these women, identifying Mary as the one who anointed Jesus with oil and wiped His feet with her hair. This and the use of the phrase "the one You love" (v. 3) indicated a friendship between Jesus and their family.
THE POINT
As believers, seeking Jesus should be our top priority.
Posted in Devotions, Girls | Tagged Camp Crestridge for Girls, Reprinted from ec magazine. @ 2016 LifeWay Christian Resources of the Southern Baptist Convention, Ridgecrest Summer Camps, Weekly Devotions