Posted by Karah
Did you know the height of the rock wall? Did you know how many gallons of water are in the Crestridge pool? Did you know how many hours you will spend at camp this summer? Well now you do!!!!!! Here are 14 fun facts that you should know about Camp Crestridge: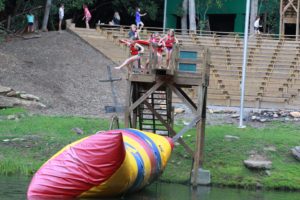 1. There will be 46 camper cabins at camp this summer!
2. There are up to 67 different snack options at store
3. During one session, you are at camp for a total of 288 hours
4. Your cabin will be cleaned at least 56 times this summer
5. There are 142,000 gallons of water in the Crestridge pool
6. The blob tower is 23 feet tall from the top of the tower to the bottom of the lake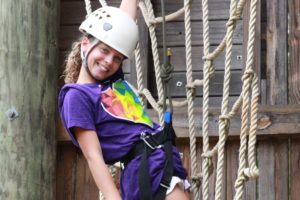 7. There are 125 steps on the Ridge stairs
8. This summer will be our 64th summer as a camp
9. The laundry staff will do at least 2,400 loads of laundry this summer
10. The rock wall is 30 feet tall
11. The kitchen staff will serve 86,400 meals during camp this summer
12. There are currently 76 fire pits at camp
13. The Choctaw village has won the Crestridge Cup 2 times more than any other village at camp
14. The zipline is 325 feet long
Posted in Girls, News | Tagged cabins, Camp Crestridge, Camp Crestridge for Girls, Crestridge Cup, The Blob | Leave a reply
Posted by Sharon
It's official!  We are now going to have 26 cabins at Crestridge!  Starting this fall, we'll begin building a new cabin on Cherokee Hill just down from Cherokee 21.  Cherokee is the first village to fill up and has long waiting lists for each session.  By building this cabin, we'll now be able to accommodate 60 campers each session in the Cherokee village.  We are so thankful for God's blessings on Crestridge and that He has provided us with the campers to fill another cabin!  We'll keep you posted through the year as we start construction.
Posted in Girls, News | Tagged cabins, Camp Crestridge, Cherokee, Cherokee Hill, Cherokee Village, Ridgecrest Summer Camps | Leave a reply