Posted by Karah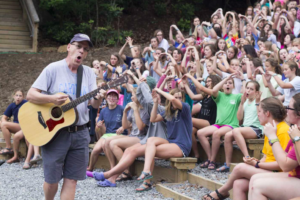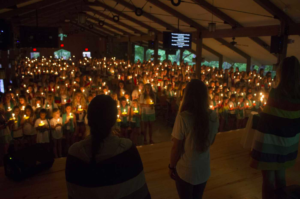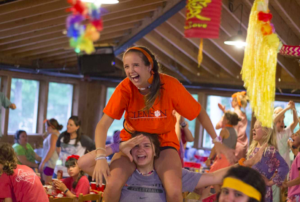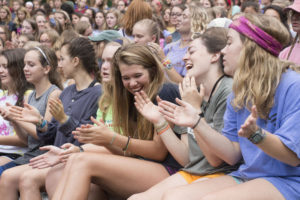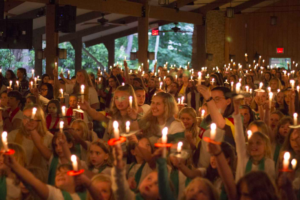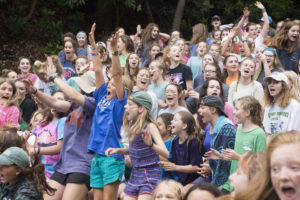 If you've been to camp before you probably know that we sing  A LOT of songs and if you have never been to camp well GET READY because we sing A LOT of songs!
So there are many times at camp where we all like to break out in song, kind of like our very own musical! Some songs are more traditional to camp, like the songs we sing at Campfire night or at Council of Progress, but others are classics to everyone and you probably might have heard them at home!
Here's a list of some of our FAVORITE songs we sing and why we sing them!
"A-la-la-la-le- luia": This is the song we start off every Campfire night with. In this song we get to shake each others hands, scratch each others backs and mess with each others hair! Who wouldn't want to join in on that!
"I Just Want to be a Sheep": This is one of our Executive Director, Ron Springs', favorite songs to sing with campers. It is so much fun getting to 'ba ba ba ba ba' with all of your cabin pals and do silly hand motions that go along with it.
"Pharaoh, Pharaoh": Another classic song with more fun hand motions for campers to dance a long too. You have to remember with this song to sing from your soul and get super into it!
"Lord I Lift Your Name on High": You might have sung this song growing up in church and it was one of our favorites as well! We sing this song at campfire night to transition into a more reflected part of the evening.
"Sanctuary": Campers love to echo this song when we sing it to end campfire night. It allows us to settle in for a night of good conversation and discussion around the fire with all of our close camp friends.
"The Mountains Rise": This is a very traditional part of our Council of Progress night. We sing this song at every CP to help us reflect and remind us of why we come to camp and that is to grow in our relationship with Christ.
"KiYi": This is the very first song we sing to get the Dinner cheers started. It is a tradition and is the best way to get everyone pumped up for the evening!
"Do Re Mi" from the Sound of Music: This is always a crowd favorite because almost everyone knows this song. Campers love to dance around the dining hall and yell all the words at the top of their lungs.
"Happiness is": DIFFERENT THINGS TO DIFFERENT PEOPLE! This song is dedicated to all of the hard work the staff and campers put into every summer. Each person has a different job to do but we all come together united finding happiness together with our camp family.
"I Love the Mountains, I Love the Rolling Hills": A dinner time favorite where we all stand up on our chairs and stomp to the boom-di-ada rhythm that echoes throughout the dining hall. You know it is a great night when we all end on the same stomp!
"Hey Look Me Over": Make sure your water cup isn't filled at dinner because it will surely be knocked over during this camp favorite. Get ready for lots of banging on tables and yells in this classic camp tune. The words can get a bit confusing so be sure to look at the words in our song book below!
"Farther Along": This last song we sing at dinner to close out the evening. It is a combination of KiYi and Farther Along to give it a little Crestridge touch.
"I Want to Linger": We sing this on the very last night of camp. You can bet tears will be shed, but we also get to be reminded about all the wonderful friendships we made here and all the lessons we have learned that we now get to take home with us. "It's just goodnight and not good bye."
"Climb Every Mountain" from the Sound of Music: We sing this song at the end of each session as a farewell to all of our campers. It is a bittersweet time because we come together one last time with our friends and family and reflect on all the awesome memories we made at camp before we have to head back home until the next summer.
Other ones to look at to get yourself ready are: Crestridge Reputation Blues, Crestridge Cutie Cutie Pie, Kitty Kitty Wash Wash, Change My Heart O God, Hiya Hiya, Oh You Can't Get to Heaven, Joy Joy Joy, Boom Boom Gee Whiz
If you would like to learn the words to any of these songs, click on the song sheet below!
We can't wait to sing and shout with you ALL summer! It is going to be grrrrrreat! Get here already!
Posted in News | Tagged campfire night, Council of Progess, Crestridge Songs, Dinner Cheers, Do Re Mi, Favorite, KiYi, Pharaoh, Sanctuary | Leave a reply