Join the Celebration
Posted by Karah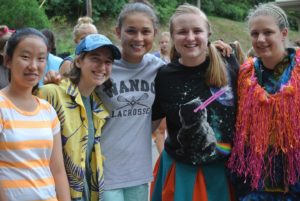 Pause
Ask God to show you how to make choices that are pleasing to Him.
Read Luke 15:25-32 in your Bible. Then answer the questions below:
"But he replied to his father, 'Look, I have been slaving many years for you, and I have never disobeyed your orders, yet you never gave me a young goat so I could celebrate with my friends. But when this son of yours came, who has devoured your assets with prostitutes, you slaughtered the fattened calf for him.'"—Luke 15:29-30
-Why was the older son angry at His father's warm welcome of the younger brother?
-How did the older son describe his relationship to his father?
Skim over Luke 15:1-2. Pharisees and religious leaders believed they were righteous because they did everything commanded by the law. They didn't think sinners deserved the same treatment as them in God's kingdom. How is the older son like the Pharisees and religious leaders? Explain.
The father responded to his older son in verses 31 and 32. Read the verses and think about the father's response. The father represents God in these verses. What does this tell you about God's character? Explain.
How do you think the son responded to his father? In your journal, write the way you would respond, your initial reaction.
Respond
Self-righteousness is the belief that you are morally better than others. Do you ever act self-righteous, telling God all you've done for Him and how others are undeserving of His love? Write your answers in your journal. Examine your heart toward sinners. Use the questions below as a guide.
Be honest with God about the way you feel when someone doesn't get what you think they deserve. Ask Him for a heart that rejoices in His mercy and grace.
Think about your family, school, or community. Who are the people who seem least likely to turn to Jesus for salvation and where do they hang out? Ask God to help you see ways you can be involved in His work in those places.
Behind the Story
Pharisees believed they had to live by the law to gain righteousness. Jesus immediately accepted sinners. To the Pharisees, this was unthinkable; they likely felt angry that sinners who received Jesus were immediately covered by His righteousness without having to perfectly keep the law. The Pharisees focused more on works, whereas Jesus focused on celebrating a repentant heart.[1]
The Point
No one deserves God's gracious salvation. Knowing this we should celebrate when anyone comes to Christ.
[1] Robert H. Stein, New American Commentary – Volume 24: Luke, (Nashville, TN: Broadman & Holman, 1992), WORDsearch CROSS e-book, 407.
Posted in Devotions, Girls | Tagged Camp Crestridge for Girls, Reprinted from ec magazine. © 2012 LifeWay Christian Resources of the Southern Baptist Convention. Used by permission., Ridgecrest Summer Camps, Weekly Devotions