Believe In Me
Posted by Karah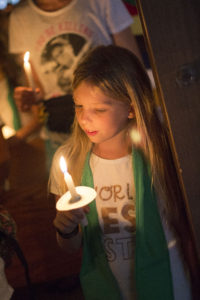 Turn off your phone, TV, and any other electronics. Prepare a quiet environment as you concentrate on spending time with God.
Read John 14:1-6 in your Bible.
"I am going away to prepare a place for you . . . You know the way to where I am going."
—John 14:2b,4
Dig deeper with these questions:
Based on what you read, fill in the blanks below.
We are to believe in _____, and also in _______ .
Jesus went away to prepare a place for ___________.
Jesus declared, " I am the _______, the ________, and the ________."
Where was Jesus going? What did Jesus say He would do when He left? Why was it important for Him to go? Explain your answers in your journal.
Other passages, such as Matthew 5:12 and Matthew 6:19-21, indicate that followers of Christ will receive a reward in heaven. However, today's Scripture focuses on Jesus' personal touch in the preparation of a place for His followers to dwell with Him for eternity.
-Jesus came to earth, died for our sins, and left to prepare an eternal place for us to dwell with Him. What does this tell you about Jesus' claim that He was "the way"?
-Look at the end of verse 6. How did Jesus say His followers would get to the place He prepared for them?
Respond
In our culture, people have many ideas and beliefs about the way to get to heaven. Some say you only have to be a good person, and others believe there is more than one way to get to heaven.
-Meditate on the Scripture you read today. What is the true way to heaven? Are you focused on Jesus and living His way?
-Think about all Jesus experienced and did to enable you to have fellowship with God. Say a prayer of gratitude for Christ's sacrifice and the gift of eternal life with Him.
Behind the Story
This passage is a part of Jesus' farewell discourse. It took place after His last Passover meal and before His coming crucifixion. It was important for Jesus to give instructions to His disciples at this point because He knew He would soon leave them and return to His Father in Heaven.
Dwell (v.) = to settle or abide in a specific location
The Point
Jesus is truly the only way to a relationship with God.
Posted in Devotions, Girls | Tagged Camp Crestridge for Girls, Reprinted from ec magazine. © 2012 LifeWay Christian Resources of the Southern Baptist Convention. Used by permission., Ridgecrest Summer Camps, Weekly Devotions