Coffee and Convo with Becky Haltiwanger
Posted by Karah
Hey all of you blog readers out there! We are here with Becky Haltiwanger. Becky is one of our interns at Camp Crestridge this year. She is a wonderful soul full of life and love. Today, we thought it would be nice for all of you to hear a little bit more about Becky. So, sit down, grab some coffee and enjoy a nice convo with the one and only, Becky Haltiwanger.
Me: So, Becky, Tell me what you love most about camp.
Becky: All of the fun kiddos that come to camp. They bring so much joy to my heart. Meeting new campers and seeing old ones is always an awesome time. I love having the chance to be goofy and have dance parties along with seeing the Lord work in their lives. Those are definitely some of the best memories I have of camp!
Me: What is your favorite campfire song?
Becky: I just want to be a sheep! It just cracks me up from all the play-on words! It's the song I definitely get hype about.
Me: What is your favorite childhood memory?
Becky: One of my favorite times during my childhood was when me and my close friends worked on our middle school news team together.  We would be goofy and weird for all the school to see. We loved each other, which made it really fun, honestly it was such a great time. We established great memories and bonding time that we still laugh about today. Truly though.
Me: If you could be any kind of animal, what would you be and why?
Becky: Honestly… a camp dog. These dogs have the life, man. They get to be loved on and get to run around camp and just have a great time with kids. But seriously, if I wanted to be an animal, it would be Scout.
Me: What is your favorite Bible story?
Becky: The story of Joseph. This is partially due to the fact that I was in the musical in high school and the songs in it are so fun to dance to and learn from. But also because it is such an amazing story of God and His provision and forgiveness. It's such a great reminder of how God's plan is so much better than our plan and how He will take care of us in every situation. He knows our stories even if we don't.
Me: If you were a new addition to a crayon box, what color crayon would you be?
Becky: Shoot… I'd probably want to be a really pretty blue or a solid green. Like a nice pine green or a pacific blue. They are colors that can be used to draw nature. Nature is just SO beautiful if you're catchin' my drift.
Me: Would you rather fight one horse-sized duck or 100 horses the size of ducks and why?
Becky: 100 horses the size of ducks. I think they would be really cute and I'd want to be their friend. I wouldn't want to fight them, I'd just be their friend. Then I could have a whole farm of these cute horses that people could come hangout with if they are feeling blue. I could bring them to camp and the kids could play with them during horseback skill and I'd be saving camp a lot of money. Except… we would have to buy mini saddles and lots of food so it might be too crazy.
Me: If you could only choose to play one song for the rest of your life, what would it be?
Becky: "Ain't No Mountain High Enough" By Marvin Gaye because it is such a motivational song. You can dance to it, get hype to it and it has a great message for the listeners. And you know what, there ain't no mountain too high for our Lord. Ya feel me?
Me: If you were a box of cereal, which kind would you be?
Becky: Fruity Pebbles. They are my favorite and they should be everyones favorite cereal. If it's not your favorite, you're doing it wrong.
Me: If you could pick a slogan for your life, what would it be?
Becky: It would be "Let your Freak Flag Fly" or "Dance like EVERYONE is Watching" (because you probably have some cool dance moves that I want to try). I just want everyone to know how unique they are as a person and how we can all learn from each other if we just be the person Christ made us to be– each with unique gifts and skills He has equipped us to use for His kingdom work!!!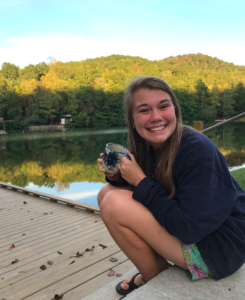 Well, that is all we have for you folks today! Stay tuned for next week for Coffee and Convo with Elise! Until then, stay blessed, stay humble and keep serving on!!
Posted in Girls, News | Tagged Camp Crestridge for Girls, Girls