Singspiration aka PURE WORSHIP
Posted by Karah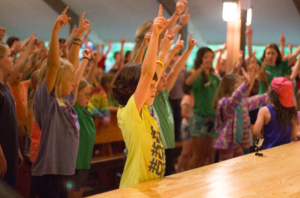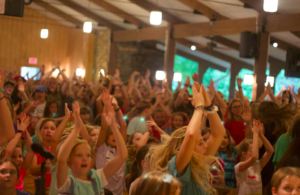 Time to talk about one of the best events that occurs at camp every Sunday. Oh, you know what I'm talking about… SINGSPIRATION!!
For those of you who have never experienced Singspiration, let me paint you a picture…
A chapel filled to the brim with kids. Jumping, shouting, excitement out the wazoo! Kids dancing wildly! Counselors singing at the top of their lungs! It's like being at a concert!
"Who's got a favorite song?"
"Dive!"
"Oh boy let's go!"
One of the best parts of this activity is that the campers get to pick what songs are sung, so they are truly creating the atmosphere! They have a variety of songs to pick from! Here's some to name a few (you know, if you ever want to create your own Singspiration at home):
-"King of the Jungle" by Steven Curtis Chapman
-"Dive" by Steven Curtis Chapman
-"Live Out Loud" by, again, Steven Curtis Chapman
-"The Great Adventure" by, you guessed it, Steven Curtis Chapman!
-"Jesus, You Are My Best Friend" by Hillsong
-"Rooftops" by Shout Praise Kids
-"Firm Foundation" by John Chisum
-"Me Without You" by tobyMac"God's Not Dead" by Newsboys"Movements" by Rend Collective"Burn Like A Star" by Rend Collective
There are also silly choreographed dances that you can follow along too or if you're feeling the music move you, you can dance however you'd like! You have complete freedom to be your wacky self at Singspiration. Whether you've been dancing since birth or if you have no rhythm at all, EVERYONE is welcome!  Each year a new song is added to the list so we can continue evolving this celebratory tradition!
Now people can think Singspiration is just a time where we come together to sing really loudly, jump around and dance like crazy people, but it is SO MUCH MORE.
It's a time where we can truly rejoice our Father in Heaven. The bible shares many times about how we should praise our Lord through joyful dancing and singing and THAT'S what Singspiration is about.
"Let them praise His name with dancing; Let them sing praises to Him with timbrel and lyre." Psalm 149:3
"And David was dancing before the LORD with all his might." 2 Samuel 6:14
"Shout joyfully to the LORD, all the earth. Serve the LORD with gladness; Come before Him with joyful singing. Know that the LORD Himself is God; It is He who has made us, and not we ourselves; We are His people and the sheep of His pasture." Psalm 100:1-5
When I am at Singspiration, I feel like this is how we were meant to celebrate our Lord, rejoicing Him in everything He is and and everything He has blessed us with. Campers sing and dance without a care in the world, experiencing a freedom that you can't quite find anywhere else.
Whether that be listening to an old Steven Curtis Chapman throwback or jamming out to a new Rend Collective song, we are truly praising and celebrating our Lord in a way that gives us a little taste of what Heaven is going to be like.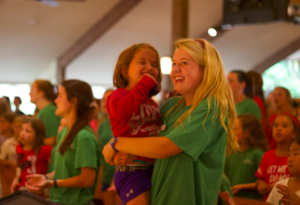 Posted in Uncategorized | Tagged