Two Commands
Posted by Karah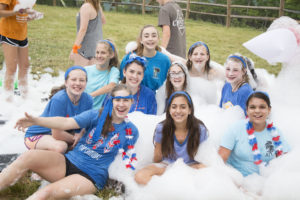 PAUSE
Reflect on your time with Jesus this week. Thank Him for what He has shown you and ask Him to continue to help you learn more about Him today.
"He said to him, 'Love the Lord your God with all your heart, with all your soul, and with all your mind. This is the greatest and most important command. The second is like it: Love your neighbor as yourself.'" —Matthew 22:37-39
Now, read Matthew 22:34-40.
• In verse 36, underline the word "greatest." Phrase the expert's question in your own words and write it in your journal.
• Verses 37-40 contain Jesus' response. List the two commands Jesus indicated.
• What does it mean to love the Lord with all your heart, soul, and mind? Why is this the most important command?
When you love God with all our heart, you are compelled to love others. By loving others like this, you show them the love of God.
In today's Scripture, Jesus addressed the heart of the issue with the Pharisees. The attitude of your heart matters. If we do not have love for God, we become legalistic like the Pharisees—focusing on the laws instead of the God who gave them.
RESPOND
Journal your response to the following questions.
• Is your life characterized by His love?
• List some ways you can live out these commands this week.
• How does living placing importance on loving God and others affect those around you? Think especially about people who don't know Jesus.
• List some ways you can obey these two commands:
LOVE GOD                                                          LOVE YOUR NEIGHBOR
BEHIND THE STORY
Leading up to this passage in Matthew 22:1-33 the Pharisees had tried to trap Jesus into answering their questions in a way that would incriminate Him.
THE POINT
Our love for God should cause us to love all others.
Posted in Devotions, Girls | Tagged Camp Crestridge for Girls, Reprinted from ec magazine. @ 2016 LifeWay Christian Resources of the Southern Baptist Convention, Ridgecrest Summer Camps, Weekly Devotions