Posted by Sharon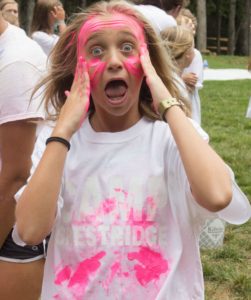 Have you made any New Year's resolutions? Now's the time to do so. It's always a challenge to keep up with them throughout the year but it's a good way to challenge yourself to do something new or different! Here are 8 resolution ideas to get you ready for camp this summer!
1. Walk up and down at least one staircase a day to get your legs ready for the hikes and climbs around camp.
2. Learn how to build a fire with wet wood so you can be prepared for those rainy Tuesday night cookouts!
3. Sit outside for two hours every afternoon with your Chacos on so you can get a good Chaco tan!
4. Stretch for 10 minutes every Sunday night so you can maximize your dance moves for Singspiration.
5. Find a trampoline and learn how to do the "flying squirrel" so you can do it off the diving board.
6. Work up to running 20mph so you can keep up with Scout.
7. Drink 64 oz of water a day so you can stay hydrated this summer.
8. Do this for 20 minutes a day to build up your arm strength the endless hours of 4-square.

Good luck with your New Year's resolutions!
Posted in Girls, News | Tagged 4-Square, Chacos, Cookouts, Hikes, New Year's, Resolutions, Scout | Leave a reply
Posted by Karah
We have some pretty talented people that enter the gates of Crestridge.  Let's think about this for a minute. Let's look at the dogs in camp as an example. O.J. is good at wandering off.  Trekker (the latest addition to the Crestridge dog family) is great at fetching.  Sonny is very talented at popping 4-square balls and singing with Marva.  Hobo is wonderful at being sweet and a great hiking companion.  The video shows a small sampling of the talent that the campers brought during 2B last summer.

Posted in Girls, News | Tagged 2B, 4-Square, Camp Crestridge, Dogs, Ridgecrest Summer Camps, Summer 2011, Talent | Leave a reply