Posted by Ashley Genoble
Missing camp and skills? Here's one of the recipes our cooking skill made during the summer! Grab some friends and parent supervision to make these apple pie bites to brighten your day!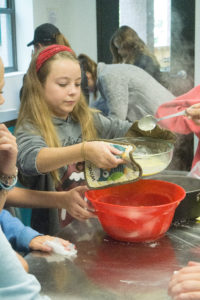 Prep: 15 minutes
Cook: 12 minutes
Makes: 8 bites
Ingredients
1/4 cup packed light brown sugar
1 teaspoon apple pie spice
3 tablespoons butter, melted
1/3 cup chopped pecans
1 small Granny Smith apple, cored and sliced into 8 slices (1/2 inch)
8oz can Pillsbury Original crescent rolls
Directions
1. Preheat your oven to 375 degrees F. Line a baking sheet with parchment paper.
2. In a small bowl, combine brown sugar and apple pie spice. Set aside.
3. Melt butter and toss apple slices in butter. Set aside.
4. Separate and arrange crescent roll triangles on baking sheet. Evenly distribute brown sugar mixture onto each triangle.
5. Sprinkle each triangle evenly with chopped pecans.
6. Place an apple slice on the wide end of each triangle. Wrap crescent roll dough around each apple.
7. Brush each crescent roll with remaining butter. Sprinkle lightly with additional apple spice.
8. Bake for 10-12 minutes, or until golden brown. Cool for 5 minutes before serving. Add a scoop of vanilla ice cream for an extra sweet treat!
Posted in Uncategorized | Tagged Camp Crestridge, Campers, Cooking, skills | Leave a reply