Posted by Karah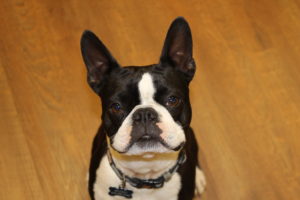 We finally got in touch with one of the biggest personalities at Camp Crestridge! He's been hard to get a hold of due to his busy schedule, which includes, but is not limited to, chasing Indie, playing in the lake, and sleeping by Sharon's desk. He's one of the funnest guys to be around and is so excited to see all his camp friends again this summer! Ladies and gentlemen, the moment you've been waiting for, it's time for a coffee and convo with SCOUT AYLESTOCK!! *AIR HORN NOISES*
Me: So tell me Scout, what is your favorite part about being a dog?
Scout: Well, I love to run around and chase my friends! Camp is so big and there are so many places to explore and find good sticks! I'M A VERY LUCKY DOG!
Me: Where is your favorite place to play at Crestridge?
Scout: THE LAKE! I have so much fun jumping in and cooling off and hanging out with all the campers! I also love sleeping in my mommy's office chair…it's a good spot.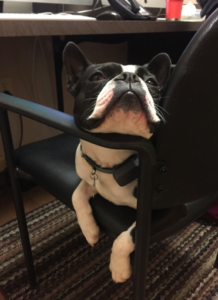 Me: What is your favorite campfire song?
Scout: I'm not usually at campfire because I get really tired after dinner and all the rocks distract me, but the times I have been there I really like that sheep song! "I just want to be a sheep BARK BARK BARK BARK!"
Me: How do you feel that people can buy a sticker of your face?
Scout: YOU CAN BUY A STICKER OF ME?! WHAT AN HONOR!
Me: What is your favorite thing to get at store?
Scout: My mom won't let me eat store but I love creating new friendships with campers! OR PLAY TETHERBALL.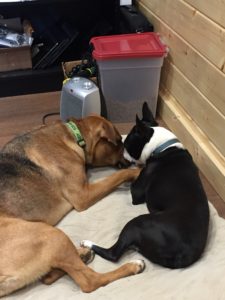 Me: What is your favorite part about camp?
Scout: That my mommy is there!! She's the coolest person you'll ever meet!
Me: What is your guilty pleasure?
Scout: I like fighting with rocks…but my mommy doesn't like it…
Me: If you could only choose to play one song for the rest of your life, what would it be?
Scout: "Who Let the Dogs Out!" by Baha Men, it's my jam!
Me: What is your Indian name?
Scout: TERRIFIC TERRIER. JUST KIDDING. I just like being called SCOUT, sometimes people call me Scoot, I answer to either.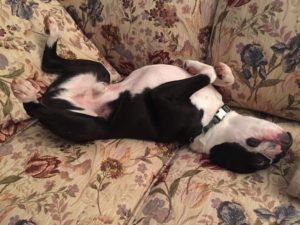 Me: If you didn't have to sleep, what would you do with the extra time?
Scout: Run a marathon! Become a famous Instagramer! Star in movies! Become the next dog superhero! Go to Disney World! Meet Snoopy or Pluto, they seem like cool guys! Rule the World! Mwahahahaha! Just kidding, I haven't thought of that plan yet…
Me: What is your favorite thing to do on the weekend?
Scout: Watch TV on my mommy's comfy coach! My favorite TV shows are Scooby Doo Where Are You, Clifford the Big Red Dog, and Wishbone. I also like movies, some of my favorite are Secret Life of Pets, Air Bud, Beethoven, Bolt, Homeward Bound, Milo & Otis, 101 Dalmatians, Benji, All Dogs Go to Heaven, The Fox and the Hound, and Lady & the Tramp (for the times I'm feeling romantic).
Me: If you had to have a job what would it be?
Scout: I HAVE THE BEST JOB OUT THERE, BEING A CAMP DOG! I GET TO HANGOUT WITH ALL MY FRIENDS ALL THE TIME! I GET TO EXPLORE AND SPEND TIME WITH MY MOMMY! But I guess if I have to do something I'd want to be a Petrologists…they study rocks…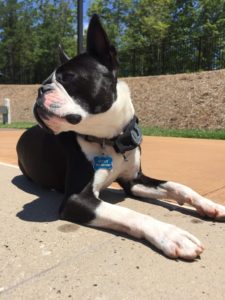 Me: What is your favorite skill to do at camp!
Scout: RUNNING SKILL! I LOVE CHASING ALL THE CAMPERS AROUND! I apologize to anyone I accidentally trip…
Me: Do you have an Instagram account?
Scout: Yes! It's wheres_scout, FOLLOW ME AND SEE ALL THE FUN PLACES  I CAN BE FOUND.
Me: What is your…wait, oh no! Scout don't go chase that squirrel!! Well I guess that's all we have time for today folks! Thank you for tuning into another Coffee and Convo! Catch Scout this summer hanging out by the BearTrap with his mommy Sharon! He's pumped to play around with you!!
Scout: "BARK BARK! SEE YOU THEN!"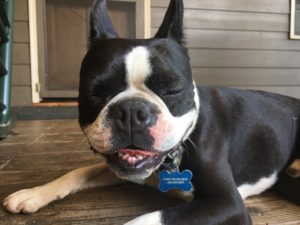 Posted in Girls, News | Tagged Bark, coffee and convo, Crestridge, Lake, Mommy, Rocks, Scout, Sharon, Terrier | Leave a reply
Posted by Karah
For two years in 1926 and 1927 an attempt to create a girls camp that was similar to Camp Ridgecrest was made. This camp was called Camp Star Note… that sounds a lot different from Camp Crestridge, huh? The camp really didn't take off for different reasons. A couple of other attempts here and there were made during the summers to create a girls camp, but nothing really seemed to take off. So, how did Camp Crestridge even come about?
As quoted from an article about the start of Camp Crestridge for Girls here is a brief history of the very beginning of camp.
"T.L. Holcomb, executive secretary of the Sunday School Board, received a twenty-five dollar check designated for a girl's camp. Holcomb planted that seed money immediately and growth began with the formulation of a committee to study the matter and select a site. Holcomb let the Board to allocate one hundred thousand dollars for 1953 and fifty thousand dollars for 1954 to begin the development process.
George Pickering, director of Camp Ridgecrest for Boys, strongly supported the effort for a sister camp. Many of the programming concepts and administrative techniques which he developed in the boys' camp were shared with the girls' camp to make the beginning much easier. He suggested that the name of the boys' camp be used with the syllables reversed as a name for the girls' camp. Camp Crestridge for Girls was born."
We have seen a lot of changes in camp over the years. Some of those changes are a big part of what has helped to create the camp that we all know and love today! Here is an inside scoop on a few things that you didn't know about Camp Crestridge.
1. The dining hall was not finished in the first summer of camp. No, campers didn't have to make and bring their own food, the Ridgecrest Conference Center provided meals… 3 times a day. That is not the crazy part though. Did you know that for each meal, campers and staff were required to put on their Sunday best and walk to the conference center? Imagine walking to Nibble Nook 3 times a day in your nicest dress. I guess that is why the packing list included 3 Sunday dresses instead of Nike running shorts.

2. Have you ever noticed the big Camp Crestridge sign right outside of camp when you first come to the fork in the road between the upper and lower gates? It has moved locations over the years to mark the entrance to camp, but it has been around since the start in 1955!

3. One of the best days in camp is when those big yellow buses roll up to take villages off to go on their village trip. Did you know though that Camp Crestridge owned a bus? Today when we go on trips we rent buses from a company, but back in the day Crestridge had its very own monogrammed bus.

4. We have seen the camp emblem on stickers, we wear it, and it's probably most noted in the stained glass in the chapel. But what does the emblem even mean? There is a purpose in every little detail of the emblem. The horseshoe stands for the sincere best wishes that we have as each camper comes to camp that she will find her piercing purpose (arrow) in life. As she does this, we believe that completion (circle) comes in the growth of spiritual, mental, physical, and social areas of life (points).

And last but not least, #5.
5. This past year was the first time that we had more than one place to swim at Camp Crestridge! Up until last summer, we only had the lake. Did you know that the Crestridge Lake has been said to have first been created in the shape of a heart? Whether or not that is a solid fact is a mystery to us. So, next time you are here, take a look at it and see for yourself if you think that may be true.

We are excited for the many years of camp to come! Looking back on all the different years of Camp Crestridge and seeing changes that have been made but our God who always stays the same is so neat! We thank our Heavenly Father that He is and always will be the constant in our changing lives.
Posted in Girls | Tagged bus, Camp, Camp Crestridge for Girls, history, Lake, mentally, Nibble Nook, physically, Ridgecrest Conference Center, Ridgecrest Summer Camps, socially, spiritually | Leave a reply