MONTHLY ARCHIVES: October 2018
Posted on October 16, 2018 by Karah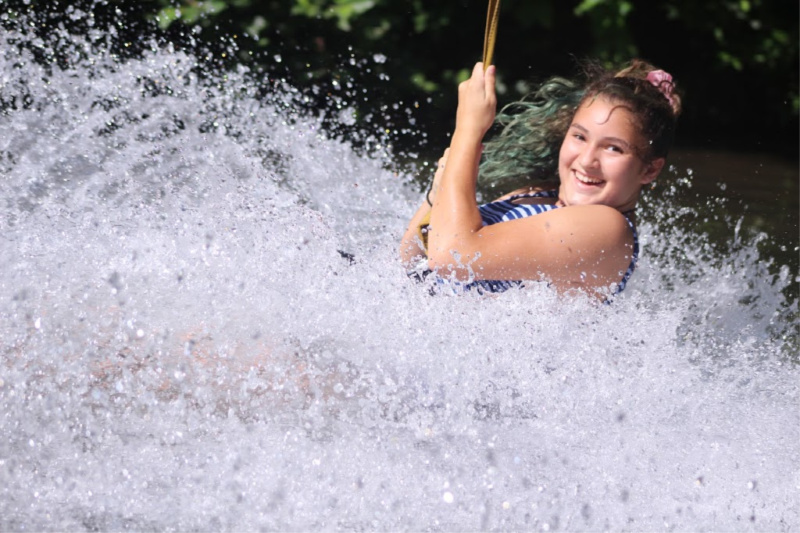 PAUSE
Take a deep breath and spend a few minutes contemplating the fact that nothing in the universe can separate you from the love of God.
"When He got out on land, a demon-possessed man from the town met Him. For a long time he had worn no clothes and did not stay in a house but in the tombs … then people went out to see what had happened. They came to Jesus and found the man the demons had departed from, sitting at Jesus' feet, dressed and in his right mind. And they were afraid. Meanwhile, the eyewitnesses reported to them how the demon-possessed man was delivered." —Luke 8:27,35-36
Read Luke 8:26-37 in your Bible. Think through the following questions:
• Circle instances of the words "beg," "permit," and "permission." Why do you think the demons made requests of Jesus?
• What does the description of the demons' power over the man—and the demons' terrible fear of Jesus—tell you about Jesus' authority?
When the people saw the healed man calmly seated at Jesus' feet, they were afraid (v. 35). Before, He had worn chains and shackles, living among the tombs. Jesus' power delivered the man from the demons and into new life. He has the power to free us from darkness and give us new life as well. (See Eph. 5:8; 2 Tim. 1:10.)
• What does it mean to have new life?
RESPOND
The demon-possessed man did not do anything deserving Jesus' presence or His mercy; Jesus came to him to set him free. In the same way, He meets us where we are—we don't have to be "cleaned up" before we can come to Him.
• How does your own spiritual transformation compare to that of the man in this story? What has Jesus freed you from? Journal your thoughts.
• How has Jesus changed your life? Think of ways you can tell your story to others. If you haven't trusted Jesus as Savior, talk to one of your camp counselors or a pastor from your church.
• For further study, read What's So Amazing About Grace? by Philip Yancey (Zondervan, 2002).
BEHIND THE STORY
The demons in the story call themselves "Legion." The word legion comes from Roman military language, concerning armed forces comprised of varying units of soldiers and weaponry. On average, a Roman legion contained around 6,000 men. The legion was also the system by which Rome established its dominance before and during the time of Christ. The use of the name Legion
in this story not only spoke to the number of demons that possessed the man, but also their rule over him.
THE POINT
Like the demon-possessed man, we were set free from an entirely hopeless state to one filled with hope, and we should share this hope with others.
Posted in Devotions, Girls | Tagged Camp Crestridge for Girls, Reprinted from ec magazine. @ 2016 LifeWay Christian Resources of the Southern Baptist Convention, Ridgecrest Summer Camps, Weekly Devotions | Leave a reply
Posted on October 9, 2018 by Karah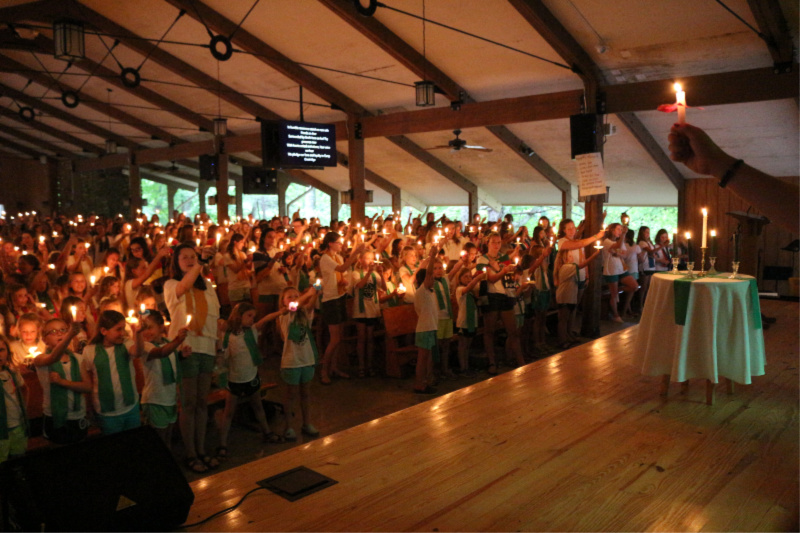 PAUSE
Remember a time when God came through for you. Reflect on it and thank Him for His continued faithfulness.
"'Satan has bound this woman, a daughter of Abraham, for 18 years—shouldn't she be untied from this bondage on the Sabbath day?' When He had said these things, all His adversaries were humiliated, but the whole crowd was rejoicing over all the glorious things He was doing." —Luke 13:16-17
Read Luke 13:10-17 in your Bible. Ask yourself:
Jesus' healing involved not only the physical healing of the woman's disability, but also spiritual healing by casting out the evil spirit. Not all physical ailments were caused by demons. Bible scholars suggest this was a rare case in which both occurred simultaneously.
• Why did the leader of the synagogue complain about Jesus healing on the Sabbath? Why is that significant?
Jesus considered changing this woman's life as more important than the religious leaders' imposing rules. He respected the Sabbath, but didn't refrain from doing God's work on that day either. Despite the Pharisees' anger at Jesus for healing a woman on the Sabbath, God was glorified through His actions.
• Look at verse 17. Jesus' _________________ were humiliated, but the _________ rejoiced. Why?
RESPOND
When Jesus healed this woman, people rejoiced. The religious leaders used the law to bind people, but Jesus came to change people's hearts by setting them free from sin. He did not nullify the law, but fulfilled it. God's law still guides our behavior even though Jesus provides our righteousness.
• Examine your heart. What are some of your thoughts and actions that need to change? Ask Jesus to continue to change your heart and help you see your need for Him.
• For further study on God's law, read Exodus 20:1-17. How does God's law guide your behavior as a believer? Explain.
BEHIND THE STORY
The Sabbath is a holy day of rest in Jewish law. Its founding comes from Genesis 2:2-3, which stated that God rested on the seventh day after He created the heavens and the earth. God's rest didn't indicate exhaustion. Rather, He suspended His work in order to delight in it, modeling this practice for His people and establishing it in His law for them (Ex. 20:3).¹ By the time Jesus was born, the religious leaders had instituted many additional man-made rules about what could and could not be done that day.
THE POINT
God's law helps us to see our need for a Savior, but Jesus changes our hearts and makes obedience possible. God's law then guides our behavior.
¹Glen S. Martin, Holman Old Testament Commentary — Exodus, Leviticus, Numbers, ed. Max Anders, (Nashville, TN: Broadman & Holman, 2002). WORDsearch CROSS e-book, p. 88, Under: "Exodus 19-20 — God's Top Ten List."
Posted in Devotions, Girls | Tagged Camp Crestridge for Girls, Reprinted from ec magazine. @ 2016 LifeWay Christian Resources of the Southern Baptist Convention, Ridgecrest Summer Camps, Weekly Devotions | Leave a reply
Posted on October 2, 2018 by Karah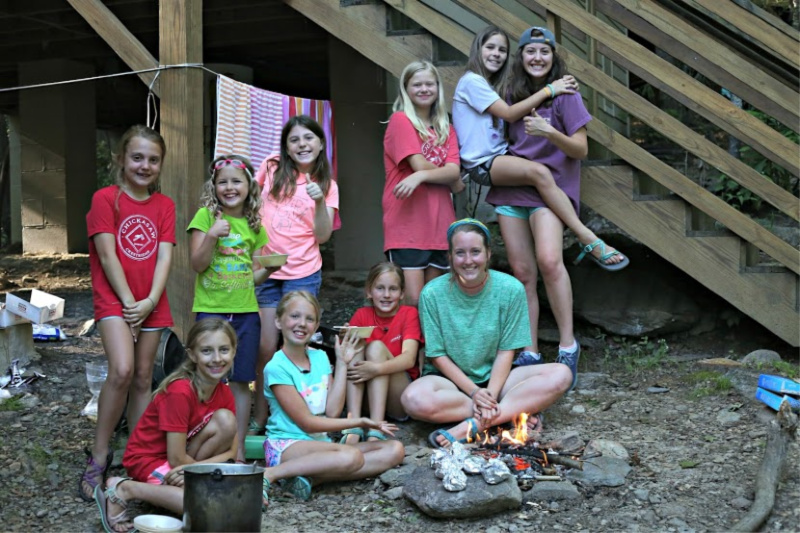 PAUSE
Grab a pen, your Bible, and your journal. Find a quiet place and think of three things that you're grateful for and thank God for those things.
Consider the word unbelief. What does this mean? When have you experienced unbelief and what did God do to help you believe? Journal about your experience.
"'And many times it has thrown him into fire or water to destroy him. But if You can do anything, have compassion on us and help us.' Then Jesus said to him, 'If You can? Everything is possible to the one who believes.' Immediately the father of the boy cried out, 'I do believe! Help my unbelief.'" —Mark 9:22-24
Read Mark 9:14-29 in your Bible. Answer these questions:
• What did Jesus request of the boy's father before He drove out the demon? Why is this important? Explain in your own words.
The father had the faith to come to Jesus and request help for his son, but he needed both faith and belief in Jesus for true spiritual healing to take place. Although, the disciples were unable to cast out this demon, Jesus had given them the power to do so, and they had experienced success before this encounter.
• List the two reasons Jesus gave for the disciples' inability to drive out the demon.
RESPOND
• Have you ever fasted? What was it like? How did the experience draw you closer to God? Journal about your experience.
• Think of two people who have strong faith. List the two names in your journal and record characteristics that demonstrate each person's faith.
• For further study on faith and prayer, read Mark 11:24; John 15:7; Romans 10:9; and Ephesians 2:8.
BEHIND THE STORY
The ESV Study Bible noted that "failure is an occasion for encouragement to more prayer … implying that more time and effort in prayer (and therefore in closer fellowship with God) leads to growth in faith."¹ The disciples had been casting out demons already, but this particular spirit was beyond them. Spiritual growth continues throughout life, no matter your level of maturity in
the faith. Faith should be nurtured with prayer, because God desires to continue to reveal more of Himself to you.
THE POINT
Prayer and faith are essential to God's will, and through them He can show us His power.
¹The English Standard Version Study Bible (Wheaton, IL: Crossway, 2008), p. 1912.
Posted in Devotions, Girls | Tagged Camp Crestridge for Girls, Reprinted from ec magazine. @ 2016 LifeWay Christian Resources of the Southern Baptist Convention, Ridgecrest Summer Camps, Weekly Devotions | Leave a reply