CC4G S'mores Trail Mix
Posted by Karah
CC4G S'mores Trail Mix
Missing Campfire Night? Want a little taste of it? Try snacking on some of this trail mix to bring back the sweet memories of camp.
3-4 cups golden graham cereal
3/4 cup chocolate chips
3/4 cup Reese's Minis
2 cups mini marshmallows
1/12 cups mini pretzels
*Optional: Drizzle melted chocolate over the top.
Mix together and enjoy! Share this version of your favorite camp treat with friends & family, and share your favorite camp stories, too!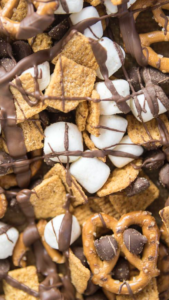 Posted in Girls, News | Tagged Campfire, campfire night, s'mores, snacks