The Door
Posted by Karah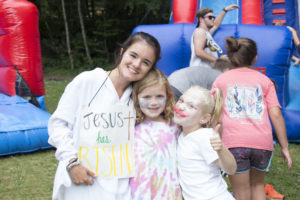 Pause
Take a minute and talk to God about what's on your mind-—the good, the bad, and everything in between. Ask God to prepare your heart to study His Word.
"I am the door. If anyone enters by Me, he will be saved and will come in and go out and find pasture." —John 10:9
Read John 10:1-10.
In Jesus' day, people would have understood that the gate to the sheepfold was a shepherd or watchman lying across the opening in the wall. As you will study more next week, Jesus was also known as the Good Shepherd. Put simply: Jesus is the leader and protector of His people.
Think through these questions and write the answer in your journal:
Circle the phrase "the door" throughout the passage. What does Jesus' identity as the door tell you about the way to eternal life? About your salvation? Explain.
Jesus is the only way to enter eternal life. He provides salvation to all who place their trust in Him. When you trust Jesus as Savior, you become His. Your salvation and your place with Him in eternity is secure.
-In verse 9, Jesus promises three things to those who enter through Him. List them in the margin of your Bible.
-Read verse 10 again. What did Jesus promise here? Write His promise in your own words.
-What does Jesus' promise in verse 10 reveal about His character?
Respond
Jesus didn't only promise life after we die. He also promised abundant life while we're here on the earth. How has He provided abundant life to you? Journal a prayer of thanks to God for all He has done for you.
Doors let things in and keep things out. For further study on the function of doors in Scripture, read Genesis 4:7; Psalm 141:3; Colossians 4:2-3; and Revelation 3:20.
Behind the Story
A sheepfold was a secure enclosure surrounded by a high wall or fence. The entrance was the only opening and would have been protected by a watchman or guard. The guard served as the protector of the sheep and the gate to the sheepfold. The only way to get to the sheep was to climb the wall or confront the guard. [1]
The Point
Jesus is the only way to be saved. Anyone who comes to Him in faith can know the security of His salvation.
[1] Kenneth Gangel, Holman New Testament Commentary – John, ed. Max Anders, (Nashville, TN: Broadman & Holman, 2000), WORDsearch CROSS e-book, Under: "John 10 – The Good Shepherd". Accessed July 23, 2015, LifeWay devotional outline.
Posted in Devotions, Girls | Tagged Camp Crestridge for Girls, Reprinted from ec magazine. @ 2015 LifeWay Christian Resources of the Southern Baptist Convention, Ridgecrest Summer Camps, Weekly Devotions