Posted by Sharon
One of the great things about our job is that we get to dream about summer all year long. We get to think of new activities, new skills, how to improve our current activities, look for incredible staff, keep in touch with our camp family and much more! One of the most exciting things we get to do is travel around and visit our camp family and tell their friends about camp. Our most recent excursion has been in Florida. We are on our last day of a two week trip. Our travels have taken us to Orlando, Jupiter, Miami, Bradenton, Tampa, Gainesville, Tallahassee and Jacksonville. We have seen lots and lots of campers and staff! We even got to see two of our camp staff get married! Seeing our camp family is encouraging and just good for the soul! We love hearing from our campers and staff about what God has been teaching them over the year and how they are applying that in their lives. It's a good motivator to get back to camp and continue getting ready for the summer. We have lots to do but we are excited to see campers running around camp again and growing deeper in their relationship with Christ! Summer 2017, here we come!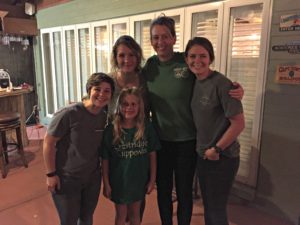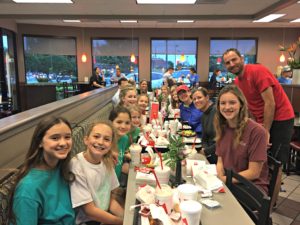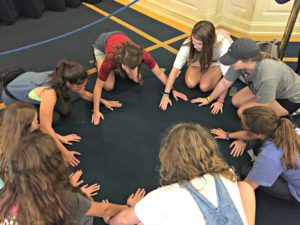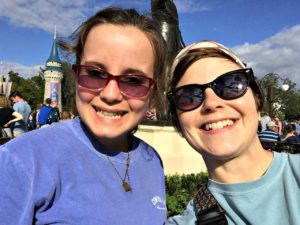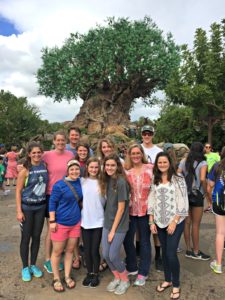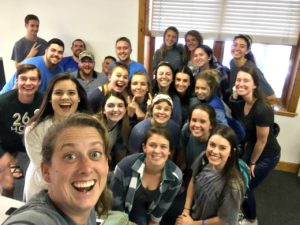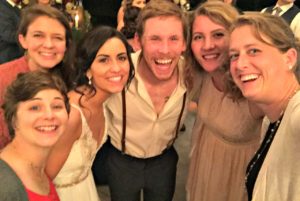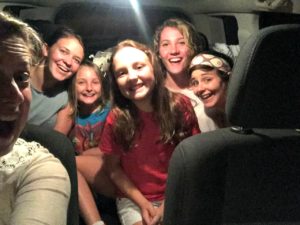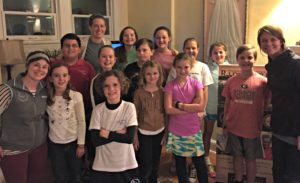 Posted in Girls, News | Tagged Animal Kingdom, Bradenton, Camp family, Campers, Chick-fil-a, Disney, Florida, FSU, Gainesville, Jacksonville, Jupiter, Magic Kingdom, Miami, Orlando, Staff, Tallahassee, Tampa, UF, UNF, Wedding | Leave a reply
Posted by Karah
While we were away (in Florida)…
How great is that!!? We love sharing the seasons we get up here with you! They each bring a different purpose and beauty! Just like our lives with Christ.
The vibrant colors of fall lead to the bare trees, that, for a time, seem bare and dead. But inevitably they set the scene for beautiful views of snow covered mountains. Every year we enjoy the winter but it often feels like the cold and bare trees will never have warmth and life again. And every year, just a few weeks before you all come, so do the bright green buds and flowers and leaves of Spring. And it's not long before the whole mountain is alive again and thick with color and the smell of the fresh crisp mountain air (and each of YOU)!!!!!!
God tells us in the bible that life is a lot like the seasons. In Ecclesiasties He says that there is a season for everything…"For everything there is a season, and a time for every matter under heaven:
a time to be born, and a time to die; a time to plant, and a time to pluck up what is planted;
a time to kill, and a time to heal; a time to break down, and a time to build up; a time to weep, and a time to laugh; a time to mourn, and a time to dance; a time to cast away stones, and a time to gather stones together; a time to embrace, and a time to refrain from embracing; a time to seek, and a time to lose; a time to keep, and a time to cast away; a time to tear, and a time to sew; a time to keep silence, and a time to speak; a time to love, and a time to hate; a time for war, and a time for peace." – Ecclesiastes 3:1-8
There are ups and downs every day. But along with the expectation of seasons God gives His children two other very good promises…"I will never leave you, nor forsake you," (Hebrews 13:5) AND, He will help us and use it all for good, "Likewise the Spirit helps us in our weakness. For we do not know what to pray for as we ought, but the Spirit himself intercedes for us with groanings too deep for words. And he who searches hearts knows what is the mind of the Spirit, because the Spirit intercedes for the saints according to the will of God. And we know that for those who love God all things work together for good, for those who are called according to his purpose." – Romans 8:26-28.
So what? Do you know Jesus as your Savior and Father? Look around at life where you are right now, ask God to help you see the beautiful part of the season you are in. Thank Him for it. And also be encouraged that He will never leave you and that He has plans for you and for His glory that can't compare to your best dreams! What He promises for His children in Heaven can't even compare to the greatest day at camp! How nuts is that! It's gonna be great!
If you don't know Jesus as your Savior and Father this is what He says to you! "For God so loved the world, that he gave his only Son, that whoever believes in him should not perish but have eternal life. For God did not send his Son into the world to condemn the world, but in order that the world might be saved through him." – John 3:16-17 "Believe in the Lord Jesus Christ and you shall be saved," -Acts 16:31
We are so thankful for you all and will make you a snow angel the next time the ground gets covered!!!
See you all soon!
Posted in Girls, News | Tagged Crestridge, Florida, Jesus, North Carolina, Promises, Seasons, snow | Leave a reply