Posted by Ashley Genoble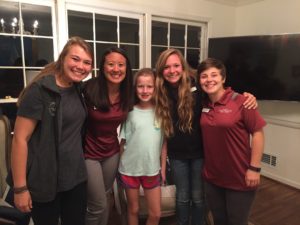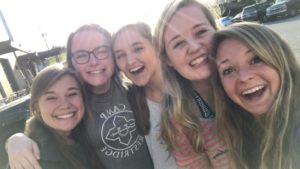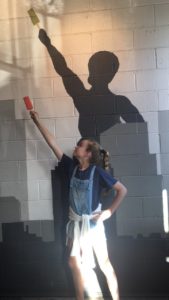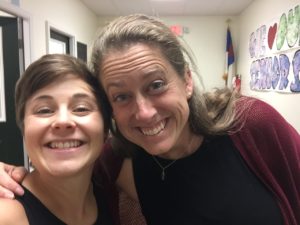 On the road again is a phrase we've heard a lot over the past week. We have been traveling the southeast since Sunday visiting and recruiting for next summer.
The trip started Sunday morning with the first stop being in Greenville, SC where Scout started his vacation at his grandparents' house. The rest of the crew then made our way to Birmingham, AL to meet up with former staff at Samford University. We had an incredible time catching up with former staff and meeting their friends who might be interested in working at camp next summer. We also had the chance to meet some potential new camp families at a home show while in Birmingham.
Next stop was a quick hug at the University of Alabama before continuing on to Starkville, MS. In Starkville we got to see former Assistant Director Katie Greenwell and a host of other former staff. We got to meet middle and high school students who are both interested in coming to camp as campers and also keeping us in mind once they graduate. We had the privilege of attending chapel at Starkville Christian School where Katie, Rachel Witbeck (former discipleship director), and Hayley Martin (former videographer) all teach. Elise had the opportunity to share with the students a powerful word on failure and how the Lord can use it in our lives.
After Starkville we made our way to Oxford, MS and the University of Mississippi. Ole Miss was another great experience of catching up with former staff and meeting potential new ones. It is exciting to think that some of the girls we have had the pleasure of meeting over the last week could spend the entire summer with us.
And that brings us to our current location, Linden, TN, where we will spend a couple of nights with our friends on the Camp Crestridge Alumnae and Friends board.
So what about you? Where are you at this week and who are you sharing your love for Camp Crestridge with? Camper registration and staff applications are in full swing! Join us as we continue to share the place we love with so many we come in contact with. We can't wait to see who the Lord brings to camp this summer!
Posted in Girls, News | Tagged Birmingham, Campers, Crestridge, Greenville, home shows, Oxford, recruitment, Staff, Starkville, summer 2018 | Leave a reply
Posted by Sharon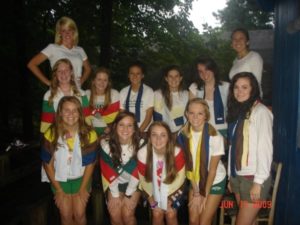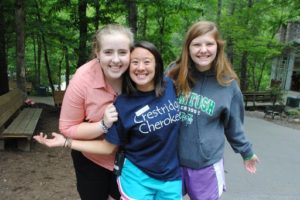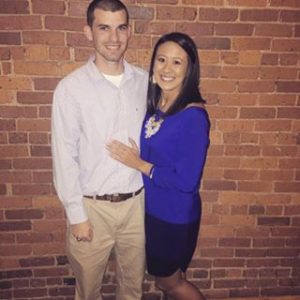 While we will miss Katie and know that God is leading her to teach in Mississippi, God is also leading someone else here to Crestridge.
We are excited to announce that Ashley "Sutherland" Genoble has accepted the Assistant Director position and will be starting in July! Ashley grew up in Greenville, SC and graduated from Clemson University. She served as a Cherokee counselor in 2009-2010 and Cherokee Village Director in 2011-2012. After her last summer at camp, she participated in a year long discipleship program in Memphis, TN then moved back to SC. She worked on staff with the youth ministry at First Baptist Simpsonville and most recently with First Baptist Spartanburg. Her time at both of those church involved discipling the girls in the youth ministries. Her mission is to disciple and see people fall more in love with the Lord! Ashley married Josh Genoble just over a year ago and Josh is currently working at First Baptist Spartanburg as well. We are so excited to have Ashley back at camp serving in this position and to see how God will use her to continue His work here at Crestridge!
Here's a note from Ashley…
"It all started in the spring of 2009 when I was a sophomore at Clemson University. I had grown up going to summer camps and knew one day I wanted to be a counselor. I began searching for the right camp to apply to when my roommate introduced me to Camp Crestridge. It was love at first sight. I spent the next four summers at camp and loved every minute. However, each summer I had to reevaluate if going back was the right decision. And each time the Lord gave a resounding YES! But then the day came when I needed full-time, year round employment and I had to say "see ya later" to camp. Fast forward to the spring of 2017. I can hardly contain my excitement with the opportunity to be back at camp full-time. It honestly feels like a dream come true. Even though I did not grow up as a camper at Crestridge, I genuinely feel like part of the camp family. I have seen how Crestridge has changed not only my life but hundreds of others over the years. To think that the Lord would be so sweet and gracious to allow me to come back is incredible. And to top it all off, I now get to introduce camp to my wonderful husband. I can't wait to reconnect with families I knew in the past, get to know more families in the future, and meet all the incredible summer staff that make camp possible. I without a doubt have huge shoes to fill but am excited about this new adventure. I firmly believe the Lord has huge plans for Camp Crestridge and I am so thankful that I get to be a part of it!" – Ashley
Welcome back, Ashley!
Posted in Girls, News | Tagged Ashley Genoble, Assistant Director, Crestridge, Discipling, Greenville | Leave a reply