Posted by Sharon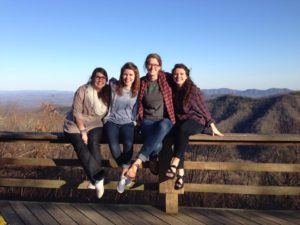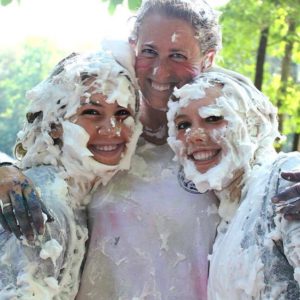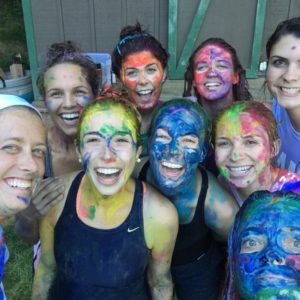 Crestridge has meant many things to many people over the years. It's amazing to see how God has used this place and the staff here to impact many lives for His glory! I love seeing the friendships that are formed between our campers and staff and how those friendships continue through the years! One of those people that many staff and kids remember and love seeing each year is Katie Greenwell!
In 2011, we hired Katie as our OAP Assistant to instruct rock climbing. Little did she know that she would still be here 7 years later. Since her first summer, Katie has served as the OAP Director, Discipleship Director, Intern and was hired as our Assistant Director in 2014. Katie's main responsibility has been hiring and discipling our summer staff. She has done an incredible job in this process.
Over a year ago, God began stirring something inside Katie in which she could not ignore. We're sad to announce that Katie will be leaving us after this summer. Even though we're sad to see her leave, we are excited for how God is going to continue to use her to impact lives for His glory in a different place. Katie will be moving to Starkville, MS to teach 7th grade at Starkville Christian School. Here's a word from Katie:
This has been quite a year of getting to know Jesus in so many sweet ways. It's not been an easy year in some ways but I wouldn't trade it for anything. I've learned about seeking Jesus, waiting on Him, trusting Him, His love, His provision, His faithfulness, and that it's all for His glory. The theme from a few years ago has come back to me over and over and over again. We are His. He has bought us with His blood to be His children. Because of that we can trust Him. He gets to call the shots and bring us where He wants us, when He wants to and for the reasons He wants to. In a lot of ways it didn't make sense to me to leave, but He kept calling me to trust Him and follow Him. Now, I really am so excited to be able to follow Him and teach 7th graders every day! I don't really know all the details of what my life in Mississippi will look like or lead to, but because I know He is leading and what He has put in my heart, I am pretty pumped!
Here's a passage that the Lord has used to guide this year…
"Trust in the LORD, and do good; dwell in the land and befriend faithfulness. Delight yourself in the LORD, and He will give you the desires of your heart. Commit your way to the LORD; trust in Him, and He will act." Psalm 37:3-5
These past 7 years being on summer and full time staff at Crestridge have been some of the sweetest, most impactful years. The relationships the Lord has given me through Crestridge have been some of the sweetest gifts. Getting to know so many of you campers, getting to play with you at camp, visit you at your homes, listen to you, laugh with you, cry with some of you, sing like crazy in the dining hall and during singspiration, talk about life and Jesus with you, and just watching you grow up as beautiful young women has been a highlight of Crestridge life for me. And staff, you have taught me so much and become friends and sisters in Christ. The life on life we've had and the work I have seen the Lord do in each of you has blown me away!
The hard thing is that I don't know what my future summers will look like or if the Lord will bring me back for a whole summer. The best part is that this DOES NOT HAVE TO BE "GOODBYE", I hope to keep walking with each other even if it might look a little different. And for those of you that know JESUS, HE IS WITH YOU! He is the one who knows you, is with you, loves you far better than any human could! My prayer is that no matter who you know at camp, that Jesus is the BEST to you! I can not wait to spend this summer with each of you enjoying all the things we always enjoy! Hurry up and get here already so we can have the BEST SUMMER EVER!!! And Catawba, y'all gotta teach me everything there is to know about 7th grade life 🙂
-Katie
We're so thankful for the time Katie has dedicated and spent here! She will be missed!
Stay tuned for another post tomorrow as we announce who will be stepping into this position!
Posted in Girls, News | Tagged Campers, God's Glory, Impact, Katie Greenwell, MS, Teaching | Leave a reply