Posted by Sharon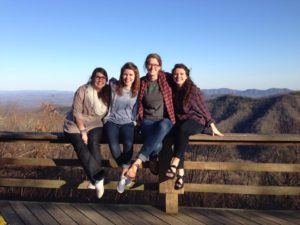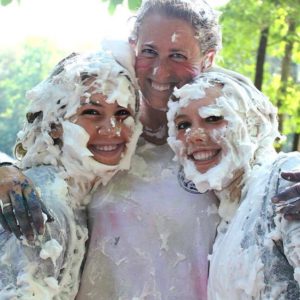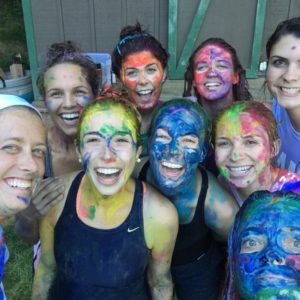 Crestridge has meant many things to many people over the years. It's amazing to see how God has used this place and the staff here to impact many lives for His glory! I love seeing the friendships that are formed between our campers and staff and how those friendships continue through the years! One of those people that many staff and kids remember and love seeing each year is Katie Greenwell!
In 2011, we hired Katie as our OAP Assistant to instruct rock climbing. Little did she know that she would still be here 7 years later. Since her first summer, Katie has served as the OAP Director, Discipleship Director, Intern and was hired as our Assistant Director in 2014. Katie's main responsibility has been hiring and discipling our summer staff. She has done an incredible job in this process.
Over a year ago, God began stirring something inside Katie in which she could not ignore. We're sad to announce that Katie will be leaving us after this summer. Even though we're sad to see her leave, we are excited for how God is going to continue to use her to impact lives for His glory in a different place. Katie will be moving to Starkville, MS to teach 7th grade at Starkville Christian School. Here's a word from Katie:
This has been quite a year of getting to know Jesus in so many sweet ways. It's not been an easy year in some ways but I wouldn't trade it for anything. I've learned about seeking Jesus, waiting on Him, trusting Him, His love, His provision, His faithfulness, and that it's all for His glory. The theme from a few years ago has come back to me over and over and over again. We are His. He has bought us with His blood to be His children. Because of that we can trust Him. He gets to call the shots and bring us where He wants us, when He wants to and for the reasons He wants to. In a lot of ways it didn't make sense to me to leave, but He kept calling me to trust Him and follow Him. Now, I really am so excited to be able to follow Him and teach 7th graders every day! I don't really know all the details of what my life in Mississippi will look like or lead to, but because I know He is leading and what He has put in my heart, I am pretty pumped!
Here's a passage that the Lord has used to guide this year…
"Trust in the LORD, and do good; dwell in the land and befriend faithfulness. Delight yourself in the LORD, and He will give you the desires of your heart. Commit your way to the LORD; trust in Him, and He will act." Psalm 37:3-5
These past 7 years being on summer and full time staff at Crestridge have been some of the sweetest, most impactful years. The relationships the Lord has given me through Crestridge have been some of the sweetest gifts. Getting to know so many of you campers, getting to play with you at camp, visit you at your homes, listen to you, laugh with you, cry with some of you, sing like crazy in the dining hall and during singspiration, talk about life and Jesus with you, and just watching you grow up as beautiful young women has been a highlight of Crestridge life for me. And staff, you have taught me so much and become friends and sisters in Christ. The life on life we've had and the work I have seen the Lord do in each of you has blown me away!
The hard thing is that I don't know what my future summers will look like or if the Lord will bring me back for a whole summer. The best part is that this DOES NOT HAVE TO BE "GOODBYE", I hope to keep walking with each other even if it might look a little different. And for those of you that know JESUS, HE IS WITH YOU! He is the one who knows you, is with you, loves you far better than any human could! My prayer is that no matter who you know at camp, that Jesus is the BEST to you! I can not wait to spend this summer with each of you enjoying all the things we always enjoy! Hurry up and get here already so we can have the BEST SUMMER EVER!!! And Catawba, y'all gotta teach me everything there is to know about 7th grade life 🙂
-Katie
We're so thankful for the time Katie has dedicated and spent here! She will be missed!
Stay tuned for another post tomorrow as we announce who will be stepping into this position!
Posted in Girls, News | Tagged Campers, God's Glory, Impact, Katie Greenwell, MS, Teaching | Leave a reply
Posted by Sharon
As you may know, the infamous Marvelous Marva will not be returning to camp this summer. We are all going to miss her SO much but we know that God will continue to do incredible things at camp and use Marva in different ways for His glory. Here in the office, we've been reminiscing on the good ole times and our favorite memories with Marva. What are your favorite memories with/of Marva?
"The first time I felt like I really got to know Marva was when I got to help her write the skit for the Chronicles of Narnia themed Sockwar. There were several of us in her office and we stayed up late into the night laughing, goofing off and finishing the story. I will never forget that moment!" – Sharon
"Every time Marva and Hobo were sitting on the porch curing homesickness one camper at a time." – Katie
"Marva means so much to me, especially last summer as I transitioned into a completely new position as her assistant. Marva is absolutely hilarious and I think we maybe laughed more with each other than we talked. I remember on one of our Chippewa adventures together when we went into downtown Black Mountain with around 30 Chippewas to play in the water fountain and it started pouring rain. Marva did not let that "rain on her parade". We played in the fountain with those Chippewas like it was sunny and 100 degrees outside." – Maddie
"Since her birthday is during the summer, one time about 8 of us took cardboard boxes and turned them into birthday presents. Before she came down to the Bear Trap on her birthday, we hid in her office so we could surprise her. I'm not sure what she thought but those were probably the biggest presents she ever received!" – Sharon
"The times when Marva would come to staff meeting with her clip board and encourage the staff with all of the great things we were doing and challenge us in the things we could do better. " – Katie
"I think Marva had a thing with water…specifically in making me get soaking wet. Another time in Chippewa adventure all the girls got on teams and made forts that they had to protect from water balloons, Marva made me make my own fort, and then proceeded to encourage all the Chippewas to attack only my fort. Needless to say, I went into lunch a little soggy that day." – Maddie
"The many mornings you picked up trash outside of the Dining Hall and cleaned up around the benches. You took time to serve camp and were so humble about it." – Sharon
"The time when Marva came on stage to do the Trekker/Belle Ceremony and her face was covered in war paint because she had just fearlessly lead the Chippewas on a wonderful adventure!" – Katie
"Marva and I had this fake spider that we used to hide in each others stuff. I hid it in Marva's desk and she found it, so the ball was in her court. I didn't see it for a while so I forgot about it. I found it in my water bottle. It had been in there for 3 days without me noticing." – Maddie
"We were at her house for a planning weekend one Spring and we took the dogs on a walk in the woods around her house. I can't remember every detail we talked about but just hiking with our dogs is a great memory!" – Sharon
"Every morning when she would introduce another sweet camper and lead prayer and a verse at breakfast." – Katie
"The time when Marva refused to call her fanny pack a fanny pack, but rather a "Marva pack"." – Maddie
"I still have (and will always keep) the letter you wrote me after my last summer in 2006 suggesting that I apply for the full-time position at camp. I couldn't believe that you took the time to write me a letter outside of the summer and all the encouraging things you said!" – Sharon
"The times (all of them) during Night of Chaos when Marva had me jump in the mud, dive into a freezing cold pool of water, and the hardest of all…not laugh when campers are being silly 2 inches from my face." – Katie
"The time when Marva used to pick out all my outfits for me for camp wide activities." – Maddie
Posted in Girls, News | Tagged Campers, Crestridge, Katie Greenwell, Maddie Michaud, Marva Rawlings, Memories, Night of Chaos, Sharon Aylestock | Leave a reply
Posted by Sharon
Mark your calendars for Saturday, Jan. 23rd…we're going to Disney World! Katie, Karah, Maddie and Sharon will be waiting inside the gate at Magic Kingdom from 9AM-9:15AM for those of you who would like join us in the park. At 9:15AM, we'll start our journey in the 2nd happiest place on earth (Crestridge being the 1st, of course!). If you have questions or need to get in touch with us on the day we are in the park, please email sharon.aylestock@lifeway.com.
Very Important, PLEASE READ:
We want to be clear in what our plans are for the day. We will not be supervising campers. We would love to see campers, spend time with them and go on rides with them, but we cannot be responsible for them and keeping track of them throughout the day.  If a camper is dropped off at the park, we cannot be held responsible for any injured or missing campers.  This is not an officially sponsored Camp Crestridge event. Those who come will be responsible for transportation to and from home, covering the cost of their own ticket along with meals while they are in the park. We are so excited to enjoy the park and we hope to see you there!
Posted in Girls, News | Tagged Campers, Crestridge, Disney, Disney World, Karah Helton, Katie Greenwell, Maddie Michaud, Sharon Aylestock | Leave a reply