Posted by Sharon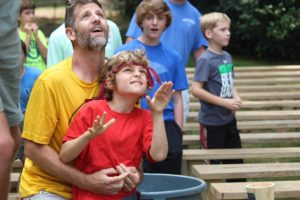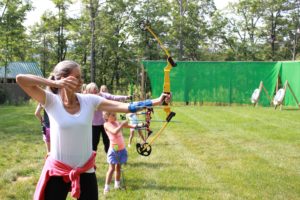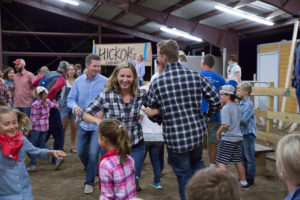 Our summer doesn't end with Starter Camp. At the end of August and beginning of September we had close to 700 people come to Crestridge and Ridgecrest! We had our Mother & Daughter Camp at Crestridge and Father & Son Camp at Ridgecrest, then Family Camp over Labor Day Weekend.
These two weekends allow families the opportunity to come experience our camps but also grow deeper in their relationship with Christ and each other. They have the opportunity to get messy, go swimming, sit around a campfire, go off the blob or Giant Swing together and so much more. They create memories that will remind them of what God did in their life while at camp! We love being apart of this and creating a place for these memories to happen!
Here is what some of our parents had to say about our weekend camps:
"We had sweet time away, just the two of us. It was nice to adventure and have fun and laugh together! I think we made special memories, just the two of us. We have 4 children, so it is hard to have such concentrated individual time with one child. Our motto is 'More of Jesus, less of me'."
"We loved going on an adventure together and focusing on God's nature surrounded by other mothers/daughters. It definitely lifted us up as a team going into hard work during the school year and just the challenges we both face whether a 6 year old or 35 year old!"
"Sharing camp together. Safe, distraction-free space to have "deeper" conversations. Trying new adventures. Personally, the weekend was refreshing and refocusing toward the task at hand and the Lord's blessing of being a father."
"This weekend solidified our bond as a family. We appreciated each other for who we are as individuals with no distractions. We were delighted with the wonderful family memories we made."
Consider joining us for a weekend camp in 2018! Our Father & Son and Mother & Daughter Camp will be August 24-26. Family Camp will be August 31-Sept. 3. For more info, click HERE to visit our weekend camps website! You're never too old to be a camper!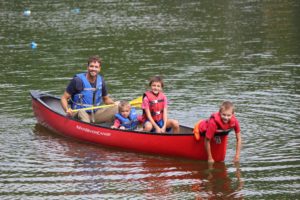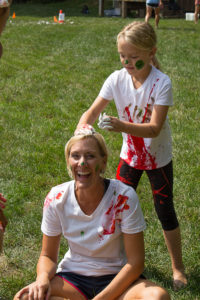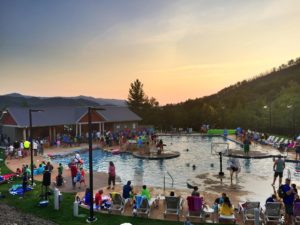 Posted in Girls, News | Tagged Blob, Camp, Daughters, family, Family Camp, fathers, Giant Swing, Labor Day, Memories, Mothers, No Distractions, Sons, swimming | Leave a reply
Posted by Sharon
My grandfather (Kermit Schmidt) was a Baptist preacher at First Baptist Church, in Tulsa, OK.  In 1959, he and my grandmother put my mother on a train bound for Ridgecrest, NC.  She attended Crestridge for two or three years as a Choctaw and Cherokee, and loves to tell stories about how fearsome Miss Bell was, how they would slide down Choctaw Hill when it rained (because there were no stairs at that time), and how they would sunbathe on the roof of the bathhouse.
Following my mother's time at Crestridge, I had two other aunts attend, although my grandparents never visited Crestridge.  They had served as Baptist missionaries in Brazil, and had spent some time at the conference center.  I suppose they felt that Crestridge was a safe place for their children, and had a strong faith that Jesus would be a shepherd and watch over all.  Those were certainly different times!
One of my aunts, Peggy Schmidt, became a Belle during her time at Crestridge.  When her younger sister followed her footsteps to attend CC4G, Peggy felt it was so important for someone to be there at closing program, that she herself caught the bus from Oklahoma to North Carolina, to support her younger sister.
Many years later, ironically, I was convinced by a twelve year old friend of mine at my church to try out the camp she had been attending.  Thanks to Cara Pollard, I started at Crestridge in 1984 as a Chickasaw.  I enjoyed my years at camp so much that I returned as a Cherokee counselor in 1992, with Nancy Clare Morgan.  It was one of the best summers of my LIFE!  I still have my four goals in my Bible from various camp years, as to how I wanted to grow Spiritually, Emotionally, Physically, and Mentally.
Yet another generation later, in 2007, my mother and I dropped off my seven year old for Starter camp, having no idea what kind of an impact Crestridge would make in her life.  All of Morgan's best friends are Crestridgers, and they keep in touch throughout the year on Instagram, text messages, email, Snapchat, and any other type of social media.  One New Year's Eve a few years ago I asked her who she was texting?  It turns out she was texting with her Chickasaw counselor.  What an amazing impression these staffers make on our children.
In addition to Morgan's experience at Crestridge, my son, Logan, has become a big fan of Camp Ridgecrest.  He looks forward to his time there every summer.  In addition, the fantastic marketing that the camps do on Instagram, Facebook, and snail mail keeps the kids energized and excited all year long.  They participate in various online competitions, look forward to seeing posts about returning counselors, view silly videos that the staff put together during the off-season, read blogs/online Bible studies, and love individualized notes that they receive.
For all of the memories that I hold dear, for those that my children hold dear, for the future memories my children are making at Crestridge and Ridgecrest, and for the part these camps are playing in the Spiritual growth of my children, I am so proud to be able to be a part of the Camp Crestridge Alumnae and Friends Board.  Thank you for this opportunity.  With my feet on the ground and my heart attuned, Crestridge has taught me to always reach for the stars!
– Anne-Britton Arnett

Posted in Girls, News | Tagged Anne Britton Arnett, Belle, CCAF, Crestridge, Memories, ridgecrest, Social Media | Leave a reply
Posted by Sharon
As you may know, the infamous Marvelous Marva will not be returning to camp this summer. We are all going to miss her SO much but we know that God will continue to do incredible things at camp and use Marva in different ways for His glory. Here in the office, we've been reminiscing on the good ole times and our favorite memories with Marva. What are your favorite memories with/of Marva?
"The first time I felt like I really got to know Marva was when I got to help her write the skit for the Chronicles of Narnia themed Sockwar. There were several of us in her office and we stayed up late into the night laughing, goofing off and finishing the story. I will never forget that moment!" – Sharon
"Every time Marva and Hobo were sitting on the porch curing homesickness one camper at a time." – Katie
"Marva means so much to me, especially last summer as I transitioned into a completely new position as her assistant. Marva is absolutely hilarious and I think we maybe laughed more with each other than we talked. I remember on one of our Chippewa adventures together when we went into downtown Black Mountain with around 30 Chippewas to play in the water fountain and it started pouring rain. Marva did not let that "rain on her parade". We played in the fountain with those Chippewas like it was sunny and 100 degrees outside." – Maddie
"Since her birthday is during the summer, one time about 8 of us took cardboard boxes and turned them into birthday presents. Before she came down to the Bear Trap on her birthday, we hid in her office so we could surprise her. I'm not sure what she thought but those were probably the biggest presents she ever received!" – Sharon
"The times when Marva would come to staff meeting with her clip board and encourage the staff with all of the great things we were doing and challenge us in the things we could do better. " – Katie
"I think Marva had a thing with water…specifically in making me get soaking wet. Another time in Chippewa adventure all the girls got on teams and made forts that they had to protect from water balloons, Marva made me make my own fort, and then proceeded to encourage all the Chippewas to attack only my fort. Needless to say, I went into lunch a little soggy that day." – Maddie
"The many mornings you picked up trash outside of the Dining Hall and cleaned up around the benches. You took time to serve camp and were so humble about it." – Sharon
"The time when Marva came on stage to do the Trekker/Belle Ceremony and her face was covered in war paint because she had just fearlessly lead the Chippewas on a wonderful adventure!" – Katie
"Marva and I had this fake spider that we used to hide in each others stuff. I hid it in Marva's desk and she found it, so the ball was in her court. I didn't see it for a while so I forgot about it. I found it in my water bottle. It had been in there for 3 days without me noticing." – Maddie
"We were at her house for a planning weekend one Spring and we took the dogs on a walk in the woods around her house. I can't remember every detail we talked about but just hiking with our dogs is a great memory!" – Sharon
"Every morning when she would introduce another sweet camper and lead prayer and a verse at breakfast." – Katie
"The time when Marva refused to call her fanny pack a fanny pack, but rather a "Marva pack"." – Maddie
"I still have (and will always keep) the letter you wrote me after my last summer in 2006 suggesting that I apply for the full-time position at camp. I couldn't believe that you took the time to write me a letter outside of the summer and all the encouraging things you said!" – Sharon
"The times (all of them) during Night of Chaos when Marva had me jump in the mud, dive into a freezing cold pool of water, and the hardest of all…not laugh when campers are being silly 2 inches from my face." – Katie
"The time when Marva used to pick out all my outfits for me for camp wide activities." – Maddie
Posted in Girls, News | Tagged Campers, Crestridge, Katie Greenwell, Maddie Michaud, Marva Rawlings, Memories, Night of Chaos, Sharon Aylestock | Leave a reply